This post contains affiliate links. This means I earn a small commission at no cost to you. You can view my affiliate disclosure here.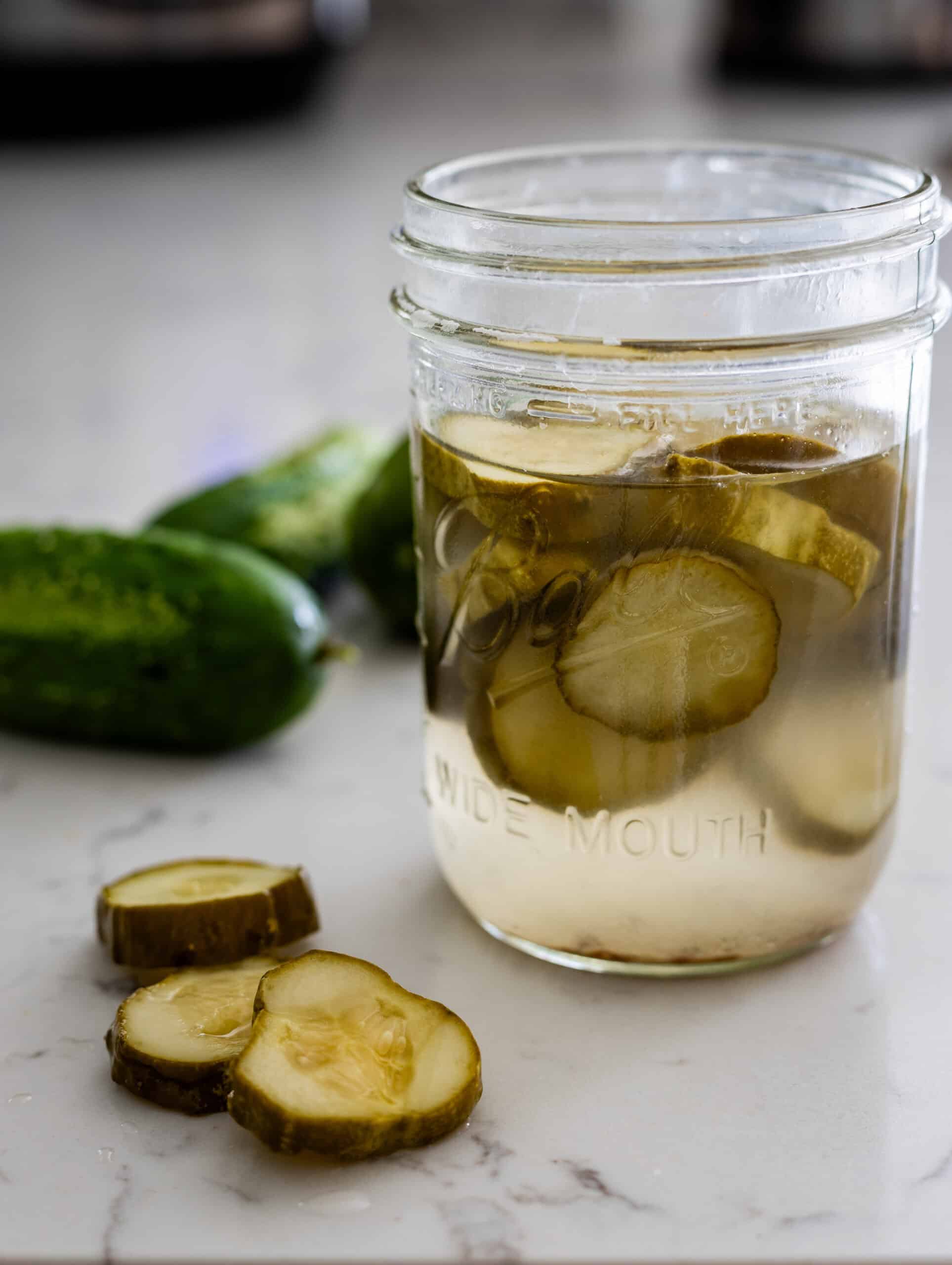 Growing up, you probably got your dill pickles and relish from the grocery store. You probably didn't think much of it; it was just a tasty treat to top off your burger or sandwich. However, what if I told you that those aren't real pickles?
They're vinegar pickles. Yes, those pickles in the green liquid are made with vinegar. The vinegar allows the pickles to pickle faster and get to grocery shelves sooner. But they don't have the gut-boosting benefits of lacto-fermented pickles. These are real pickles that are fermented. This means that they contain beneficial bacteria that is important for creating good, healthy bacteria in your gut. The salty brine allows the good bacteria to grow while inhibiting the growth of bad bacteria. This is why you'll want to keep your cucumbers submerged.
📖 Recipe
Lacto-Fermented Pickles
Learn how to make this easy, gut-boosting condiment.
Equipment
Knife

Fermentation lid (optional), cloth with rubber band, or standard wide mouth lid

Weight (see note)
Ingredients
Any additional ingredients of choice (optional)
dill seeds

bay leaves

caraway seeds

mustard seeds

garlic cloves
Instructions
First, bring one cup of filtered water to a boil and dissolve all of the salt into the water.

Let the salt water cool and add to the mason jar. Pour in the remaining filtered water as well.

Cut your cucumber into spears or slices (depending on preference). Add them to the jar of salt water. (see note)

Add in any additional ingredients you want to use

Place your weight on top of the cucumbers. It is okay if seeds or added ingredients float to the top. As long as the cucumbers are submerged, you are good to go.

Put your lid on. If you are using a regular lid, make sure to "burp" or open the lid every day while the cucumbers are fermenting.

Let your jar sit for about two weeks. Around 1.5 weeks you can taste the pickles every couple days to see if they are sour and crunchy enough to your liking.

After 2-2.5 weeks, the pickles are ready for your sandwich or just as a salty treat. At this point, you can transfer them to the refrigerator for up to 2-3 months.
Notes
You can buy fermentation weights. Other options are a clean stone, a bag of water, or anything small, clean and heavy. 

If you have too much liquid in the jar, you can pour some out.

Using filtered water is important for this recipe because chlorine will kill the beneficial bacteria.
Make sure to sterilize everything (your equipment, kitchen surfaces, and hands) before starting because you could accidentally introduce bad bacteria into the fermentation process. 
If any mold forms on the top of the brine or jar, just scrape or wipe it off and your pickles will be fine.