I think when many people hear the term "raw milk" they wonder, "Why take the risk?" or "Is it safe?". I honestly did not completely understand what raw milk was until I began to dig a little deeper. I knew a few families who drank raw milk in our local community, so I began to try to understand it a little bit more.
What is Raw Milk?
Raw milk is milk that hasn't been pasteurized. It is milk that hasn't been heated, homogenized, or altered in any way. It comes straight from the cow.
Something interesting that I discovered upon researching raw milk was that my ancestors did in fact consume raw milk. My great grandparents were the last of the line of small farmers in my family. It wasn't an easy life, but they had good, nutritious food. My mother remembers going over to their house and drinking the raw milk from their cow that they milked that morning. No one really batted an eye about it. That was just how things were done.
Nowadays, people are afraid of raw milk. Why take the risk? I mean, isn't raw milk and pasteurized milk the same thing except for the risk of getting sick?
That isn't exactly the case.
Why Not Drink Pasteurized Milk?
If you get pasteurized milk from the grocery store, the chances are that it most likely came from cows raised on a factory farm. On these large scale operations, the cows do not have the same living conditions they would have in their natural habitat. They are fed grain (usually genetically modified) instead of grass, which makes the milk less nutritious. They also receive antibiotics and growth hormones which are passed onto the person who drinks that milk.
Many people are aware of the dangers of taking too many antibiotics, and that is why you only take them if you absolutely need them. However, many people are unaware that they are getting antibiotics every time they consume conventional dairy products.
Growth hormones also increase the occurrence of mastitis (infection of the utters) in cows. Having mastitis myself a couple times while I was breastfeeding, I can tell you it is painful and uncomfortable. So, it makes sense why these cows would need more antibiotics. Typically with organic, raw milk you will not be drinking milk from cows treated with antibiotics or growth hormones. The cows at these small farms typically graze on grass most of the year.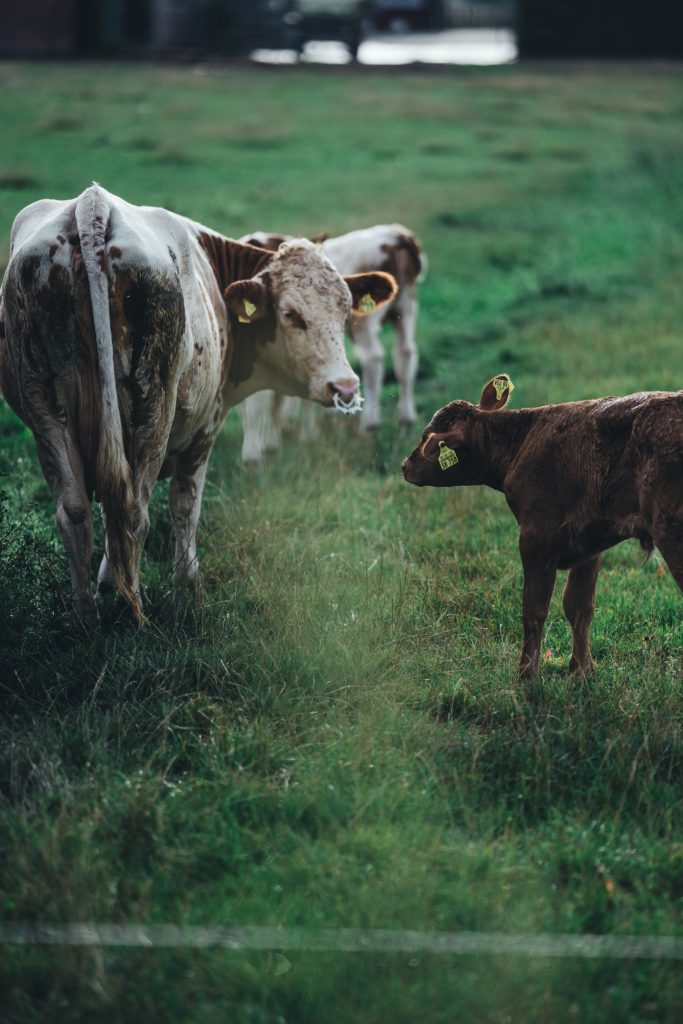 Being in close confinement, cows are more prone to disease and the milk is more likely to have bad bacteria in it. So, this makes pasteurization necessary. I honestly would not want to drink milk from a factory farm that has not been pasteurized.
Lastly, the waste from these farms is not anything like you see in nature. The waste has to be collected into ponds, which is bad for the surrounding environment. It's also bad for the communities that live near these farms. People in these communities have higher rates of asthma and breathing difficulties.
What Does Pasteurization Do?
When milk is pasteurized, it is heated to a high temperature for several seconds in order to kill any bacteria in it that might make you sick. It also extends shelf life. Unfortunately, when this is done, the heat does not discriminate between the good and bad bacteria. Everything is killed. Ultrapasteurized means the milk is heated to a even higher temperature than pasteurized milk. This milk is basically "dead" or sterile because most vitamins, minerals, enzymes, and probiotic bacteria cannot survive these temperatures. The milk is sterile enough to sit out at room temperature and not go bad.
The amount of vitamins a, d, c, and e are reduced in pasteurized milk, and vitamins B6 and B12 are completely destroyed. The bioavailability of calcium is reduced, and beneficial enzymes that help people digest milk are also destroyed. Cows that consume grain have less omega-3 fatty acids in their milk.
With raw milk, the vitamins, minerals, enzymes, and probiotic bacteria are left in tact. The raw milk also doesn't spoil or suddenly go bad. It slowly becomes more sour over time. We will typically use sour milk for cooking or baking.
What Does Homogenization Do?
Homogenized means that the fat globules in the milk have been altered. They are pushed through small holes at high pressure until they get smaller and evenly disburse through the milk. Naturally, raw milk separates when it sits for about a day or so. The cream rises to the top of the container, and you shake it before drinking. The cream is evenly spread out in homogenized milk, so it looks more appealing to consumers. While raw milk has a yellow tinge to it, pasteurized and homogenized milk looks more white. Unfortunately, homogenization makes the milk even more of a processed food.
What About Lactose Intolerance or Allergies?
Because pasteurized and homogenized milk is so processed, it is not surprising that many people have lactose intolerance and dairy allergies. Many people who have trouble digesting pasteurized milk have no trouble digesting raw milk. My daughter was one of those people. She absolutely could not tolerate regular milk, yogurt, or dairy-based baby formula. When we first tried raw milk, she had no trouble with the raw milk. She loved it! We also noticed a decrease in her eczema when she started drinking this milk.
Prior to trying raw milk, I had not consumed conventional milk in years. The first month or so when I started drinking raw milk, I noticed that the back of my throat itched slightly. This later went away. It is possible my body had to adjust to the milk. However, this was during the winter when cow's diet is supplemented with alfalfa, so could be another explanation.
Is Raw Milk Safe?
The safety of raw milk depends on the source of where you are getting it from. This is where you would want to interview the farmer to see what their practices are. Typically, raw milk farms are smaller, family run farms. The cows graze on grass in open pasture, and they are not as prone to disease. The milk should be refrigerated right away, and the milk should be collected in a clean environment. Where we get our milk from, the farmer regularly tests for bacteria that could make customers sick. You can definitely get sick if the farmer doesn't have the proper procedure for collecting milk, so take the time to talk to them.
Is Raw Milk Legal?
Every country and state (if you are in the United States) has its own laws regarding raw milk. In some states (like Nevada) and countries (like Canada), raw milk is illegal. This makes it nearly impossible to obtain raw milk if that is the law where you live. Many states in the United States are cow share states. This where you have to purchase part of a cow and pay for its "room and board" so to speak. The farmer will do all the work, and you get fresh raw milk in return.
In some states, raw milk is legal but it has to be labeled as pet milk. Some states, like Pennsylvania, sell raw milk right in grocery stores. In my state, we have to drive out to the farm to purchase our milk (a 30 minute drive each way). Some people drive to our local farm from neighboring states (several hours) to obtain raw milk. Depending on where you live, accessing raw milk can be a little extra work.
If you are several hours from a raw milk farm, I would recommend driving out every month or two and stocking up. Then put some of the milk into the freezer for later that month. When freezing raw milk, be sure to pull it out several times while it is freezing to shake it before it is completely frozen. This helps the texture when it defrosts.
Our family enjoys drinking raw milk, and we have many reasons for doing so. The interesting thing about raw milk is that the flavor changes throughout the year as the cows have more green grass in the late spring and less in the winter. I have personally consumed raw milk while pregnant and given it to my young children and have had no concerns. Because we get our milk from a good source, we are not concerned about drinking it and have noticed an improvement in our health.
Where Can You Find Safe Raw Milk?
If you are interested in locating raw milk, search here.
If You Are Interested in Raw Milk:
https://draxe.com/nutrition/raw-milk-benefits/#Nutrition_Facts
https://chriskresser.com/raw-milk-reality-benefits-of-raw-milk/
https://www.realmilk.com/the-johns-hopkins-raw-milk-study/
https://www.westonaprice.org/health-topics/making-it-practical/milk-it-does-a-body-good/